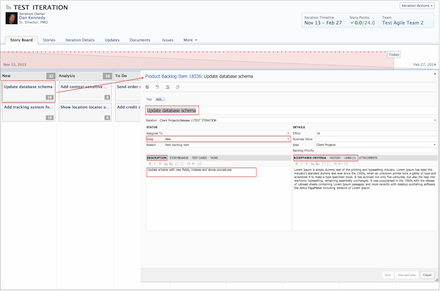 OOTB (Out of the Box) TFS integration with Workfront (formerly AtTask)
Workfront for TFS (Team Foundation Server) allows development organizations to plan and manage projects in Workfront, while allowing their developers to work and update their tasks via TFS. The integration allows you to sync iterations and stories from Workfront into TFS and allows project managers and team members to get instant feedback of work items progress in Workfront.
Sync your sprints and user stories between Workfront and TFS in no time.
Microsoft Team Foundation Server (TFS) provides item tracking, source control, and agile project management. When combined with Workfront, teams are no longer disconnected. The integration provides cross-project reporting and process governance across a complex work environment. By integrating Workfront with TFS, organizations increase project visibility and collaboration which results in improved work productivity, quality, and ultimately shorter development cycles.
Make sure the software does the heavy lifting! We work directly with core users and IT staff to define your workflow and processes and craft a solution that's tailored to getting the most out of your investment. We can customize this integration for your exact needs.
Contact us for more information.
F

eatures
Synchronize Sprints and User Stories from Workfront to TFS
2 way sync of comments and statuses between Workfront and TFS
Sync Actual Time from TFS to Workfront for complete visibility
Works with TFS on-demand and on-premise versions