1
Microsoft Office
Custom branded reports.
Project Status Reports, Business Case Reports, Word and PowerPoint Add-ins, Outlook/Exchange Task and Issue integration
2
Custom Integrations
NetSuite, PeopleSoft, MS Dynamics, SAP, ZenDesk
Name your workflow, chances we can help. We have done several integrations involving hour and timesheet data, automatic resource and project provisioning, and helpdesk automation
3
SalesForce
SalesForce
Enhance your existing workflow by creating new projects in AtTask when an opportunity reaches a certain stage or approval process. Send status and comment updates back to SalesForce
4
Document Management
Google Docs, DropBox, Box
Move documents between Workfront and Document Management providers
Big or small, new or time to re-tune, our Solution Experts are ready to help your Workfront integration project succeed.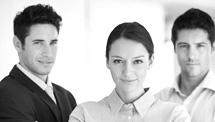 Make sure the software does the heavy lifting! We work directly with core users and IT staff to define your workflow and processes and craft a solution that's tailored to getting the most out of your investment.
Focus on your business, not the infrastructure or the application development
We can deploy your application with Windows Azure Cloud Services. We take care of everything. Once your integration is deployed, Windows Azure handles the deployment details - from provisioning and load balancing to health monitoring for continuous availability. Your integration is backed by an industry leading 99.95% monthly SLA. You just focus on the business and not the infrastructure. It's that good. But wait, if you prefer to host, we can work with your IT team to make that happen. We make sure it's done right, the first time.
S

ervices
Comprehensive review of optimized "to be" business processes
Development of integration strategy (in support of optimized business processes)
Development of custom integrations
Custom branded reports using Microsoft Office
Integrations with Microsoft Word, PowerPoint, Excel
Integrations with Microsoft Outlook, Exchange, Team Foundation Server
Survey Integrations